The best medical Spanish course for you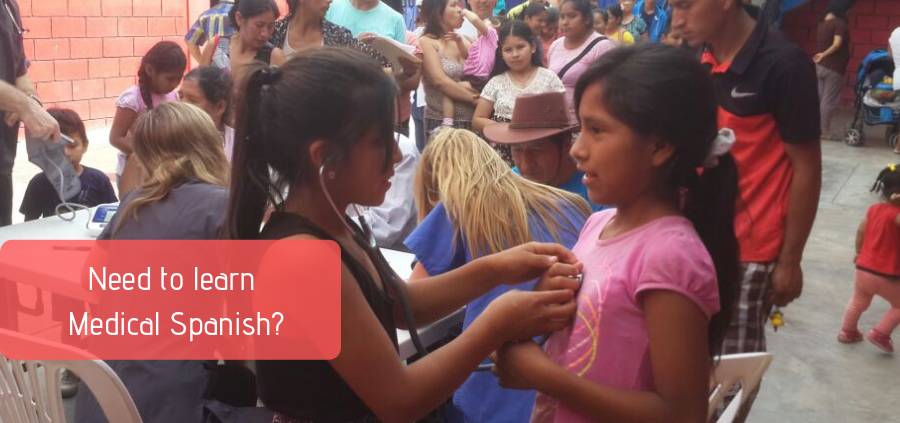 This post was most recently updated on December 15th, 2022
Learn quickly and thoroughly
For many existing healthcare professionals and future health professionals, the knowledge of medical Spanish is not just helpful but essential.
Since 2011, we have worked to develop the best possible medical Spanish immersion program.  By best, we mean the program enabling you to learn healthcare Spanish as quickly as possible to use it in a clinical setting.  The practical use of the language is critical to note.  Many videos, apps, and short courses provide you with medical vocabulary and phrases.  This is not enough.
For us, the best medical Spanish program needs to include several elements:
To be immersion so that you live and breathe Spanish.
Include Spanish grammar and medical Spanish
Be taught by both actual physicians and qualified language teachers.
You have to practice role plays before working with patients.
You have to work and practice Spanish with actual patients.
A CME accredited program assuring quality.
Later in this article, I will explain why we believe we offer the best medical Spanish program for physicians and healthcare professionals working with Spanish patients.  Let's first look at the healthcare Spanish resources and courses out there.
Medical Spanish materials and courses
Not everyone has the time or can make the financial investment an immersion program abroad requires.  The best medical Spanish course for you will depend on your circumstances.  There are a few free youtube videos out there that will provide you with some vocabulary.  There are also vocabulary lists to be found on websites such as medicalspanish.com.
If you can spend money on a medical Spanish course, consider language apps focussed on developing Spanish vocabulary for healthcare.  These include Canopy and Rosetta Stone, who now offer a health care course.  These apps are relatively expensive but are well established and, of course, convenient to use.
If you enjoy listening to podcasts, the most comprehensive option is docmolly.com, which covers healthcare terms and Spanish grammar at different levels.  Following physician-patient consultations is a great way to attune your ear.
It may seem old-fashioned now, but books are inexpensive and can provide you with a structure you need to cover both medical Spanish and the grammar you need.  We like McGraw-Hill: Complete Medical Spanish, which does a great job of covering both.
Medical Spanish immersion programs
There are several immersion programs located in different Latin American countries.  When investigating the best options available to you, we recommend you consider the following questions:
Does the organization specialize in medical Spanish, or is this one of many different types of Spanish taught?
Is the teacher qualified to teach you medical Spanish and especially to practice actual physician – patients interactions?
If you are a professional, does the program offer you CME credits?
Will you have comfortable homestay accommodation for full immersion?
Are class sizes small enough to cater to your needs?
The best medical Spanish immersion programs will offer all of the above.  Be aware that some providers are general language schools; for them, healthcare Spanish is just another program and may be taught by a teacher with no specific knowledge of healthcare.
Medical Electives Peru
Since 2011, we have taught medical Spanish to healthcare students and professionals in the colonial city of Trujillo, on the northern coast of Peru.  As a medical Spanish, we offer hospital electives, weekly health fairs, surgical missions, and meals to the elderly in poverty.
The best medical Spanish course
We are serious about teaching medical Spanish.  Here classes are over 4 or 7 hours per day.  Our team of physicians and language teachers ensures you learn the ideal mix of medical and general Spanish to communicate with your patients confidently.  Whether you are a beginner or have a degree in Spanish, we will ensure your rapid progression.
You will work with different teachers during the day and use a variety of teaching methods.  This will include lots of role-plays, giving you the practice you need for the real world.
Your learning does not begin and stop at the classroom door.  You will participate in our weekly community health fairs, working with our team to provide free consultations and medicine to underserved patients in different city areas.
Please see medical Spanish immersion for more details on how we will create the ideal learning environment for you.  If you have a specific question, please get in touch with [email protected]
https://medical-electives.net/wp-content/uploads/2019/07/two-girls-attending-community-health-fair-in-peru.png
450
900
kevinhurley
https://medical-electives.net/wp-content/uploads/2020/04/logo-medical-3.png
kevinhurley
2020-07-04 20:42:07
2022-12-15 09:36:58
The best medical Spanish course for you